Boating BC - Safe Boating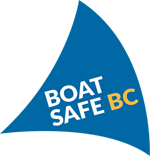 EXCUSES DON'T FLOAT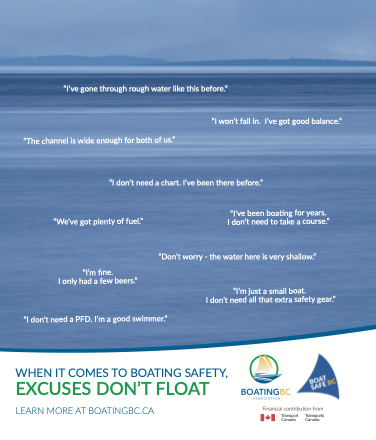 ​​​​​As boaters across British Columbia prepare for the official start of the 2023 boating season, and in conjunction with National Safe Boating Week, Boating BC is renewing its call for increased safety on BC's waterways with a public service advertising campaign reminding BC's boaters that when it comes to safety, excuses don't float!
"When you see statistics such as the fact that over 80% of drowning victims in Canada could swim but weren't wearing a flotation device, or the fact that alcohol is a factor in over 40% of boating fatalities it's a stark reminder that when it comes to boating safety, excuses don't float," says Bruce Hayne (Executive Director). "Whether you boat on a lake, a river or the ocean, British Columbia is a fantastic place to get out on the water, but it's important to do it safely so that a great day on the water is just that – a wonderful memory with family or friends."
There are easy and affordable safe boating courses available online and everyone on the water should remember some basic tips:
Always wear a properly fitted personal flotation device 
Never drink or consume recreational drugs and boat 
Be prepared with proper safety equipment on board and make a "Float Plan" ensuring someone knows when you are due back
Take a boating course 
Be aware of the risks of cold water especially early in the season
Safety Message From Leaders In Our Community
Be Safe On The Water
Recreational boating can be an extraordinary experience, but comes with inherent risk. Whatever on water activity you enjoy, and whether you buy, borrow or rent, you're responsible to ensure you're  well-trained and informed about staying safe.
Do you want to start boating but you are not sure what you need to do to get a boat ready for Canada's waterways? The best resource is Transport Canada's Safe Boating Guide. You can also click on your preferred on-water activity pictured below for the minimum safety equipment required.
---
Five Boating Safety Tips:
Wear your lifejacket. Carry a

 

Canadian approved PFD on board, sized for each passenger. But don't just carry it, WEAR IT.
Don't boat impaired. Boating under the influence of alcohol or recreational drugs is not just illegal; it's irresponsible. Enjoy your beverage after docking or moorage. 
Take a boating course. Anyone driving a motorized boat must have a Pleasure Craft Operator Card. For your own safety and that of your passengers, we recommend you take additional boating courses. Visit our member directory for a course provider near you.
Be prepared. Ensure your boat has all the required safety gear and sufficient fuel. Check the weather and tides for your cruising area. Ensure the conditions don't exceed your experience level or vessel's capabilities. Share your trip plan with someone before departure.
Beware of cold water risks. Learn how to protect yourself.
Learn more about the minimum boat safety equipment required, click on the images below for details! 
 
| | |
| --- | --- |
| | If you still have questions, let us know, we'll get the answer for you. |
SHARED WATERWAYS
The Shared Waterways campaign is a partnership between Boating BC, Vancouver Fraser Port Authority and BC Ferries. With more and more new recreational boaters getting on BC's beautiful coastal waterways, it's important to know the "rules of the road". Large vessels such as freighters, BC Ferries and Tug & Barges are difficult to maneuver and stop. Stay back to stay safe!
For more tips and information scroll below.
Funding generously provided by
Transport Canada.