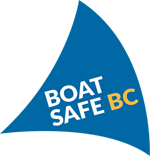 Recreational boating can be an extraordinary experience, but comes with inherent risk. Whatever on water activity you enjoy, and whether you buy, borrow or rent, you're responsible to ensure you're  well-trained and informed about staying safe.
The best resource is Transport Canada's Safe Boating Guide. You can also click on your preferred on-water activity pictured below for the minimum safety equipment required.  Boat Notes offers a shorter version of the guide, checklist and an app.
Five Boating Safety Tips:
Wear Your Lifejacket. Carry a Canadian approved PFD on board, sized for each passenger. But don't just carry it, WEAR IT.
Don't Boat Impaired. Boating under the influence of alcohol or recreational drugs is not just illegal; it's irresponsible. Enjoy your beverage after docking or moorage. 
Take a Boating Course. Anyone driving a motorized boat must have a Pleasure Craft Operator Card. For your own safety and that of your passengers, we recommend you take additional boating courses. Visit our member directory for a course provider near you.
Be Prepared. Ensure your boat has all the required safety gear and sufficient fuel. Check the weather and tides for your cruising area. Ensure the conditions don't exceed your experience level or vessel's capabilities. Share your trip plan with someone before departure.
Beware of Cold Water Risks. Learn how to protect yourself.


MINIMUM BOAT SAFETY EQUIPMENT  REQUIRED
Click on picture below for more detail.
 
ROYAL CANADIAN MARINE SEARCH AND RESCUE

Boating BC Association is a proud supporter of Royal Canadian Marine Search And Rescue (RCMSAR), whose mission is to save lives on the water. Their volunteers help people in trouble on the water – 24 hours a day, 365 days a year. They also offer an app with trip planning checklists, weather forecasts,  emergency numbers, boating tips,  & more, specific to BC's west coast. 
Download their app via links provided.  See their new video.
NEW WEATHER TO BOAT APP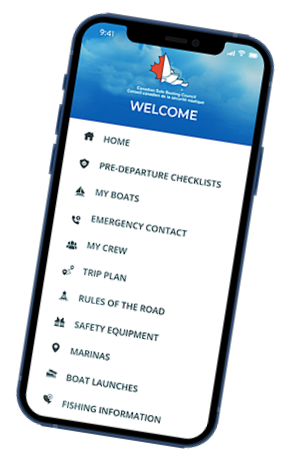 The new "Weather to Boat" app is now available to download for FREE in the app stores.
More than just weather, the app provides trip planning, marina locations, rules of the road, pre-departure checklists  and more, to help make your boating experience safer
and more enjoyable.
Download the app via www.weathertoboat.ca.
Try it out! Share your feedback with app developer:

Canadian Safe Boating Council (CSBC)

Tel: 416-840-8938  E. https://csbc.ca/en/contact
SAFE BOATING TIPS FROM TRANSPORT CANADA
SHARED WATERWAYS
The Shared Waterways campaign is a partnership between Boating BC, Vancouver Fraser Port Authority and BC Ferries. With more and more new recreational boaters getting on BC's beautiful coastal waterways, it's important to know the "rules of the road". Large vessels such as freighters, BC Ferries and Tug & Barges are difficult to maneuver and stop. Stay back to stay safe!
For more tips and information scroll below.
Funding generously provided by
Transport Canada.