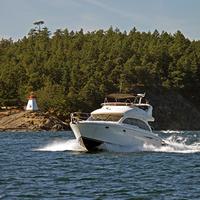 WHY YOU SHOULD PUT YOUR BOAT IN A CHARTER FLEET
Does your boat languish, unused for most of the year? Would you like a more affordable way to own a boat – or to buy a bigger one?
Ian MacPherson - CEO of Nanaimo Yacht Charters has a suggestion for you: join a charter fleet.
"The average person uses their boat less than three weeks a year," says Ian. "Their boat just sits there when it could generate some income to offset the costs of ownership – and provide adventures for charterers."
"The demand for chartering power, sail, cruising and performance boats is growing. Tourists want to get on the water in what I consider the best cruising area in the world."
How It Works
Private boat owners make their boat available to a charter company to rent out, at least ten weeks a year, and receive 60% of the net revenue. Owners can block out time, in advance, for their own use.
Boat owners
Pay for moorage, insurance and maintenance costs

Ensure their boat is moored at the charter company's base, when needed.

Provide all safety equipment required by Transport Canada, in good working order

A good dinghy and motor

Well-equipped galley.
The charter company
Pays for promoting, advertising and selling time on your boat

Provides linens and bedding

Screens and orients each new client

Inspects, cleans and restocks the boat over when returned.
"If we charter your boat for six prime weeks, it will pay for your annual expenses. Our top charter boats are doing 14 to 20 weeks – and an average good season is about 14 weeks. About one week's charter alone will pay your annual insurance premium."
Criteria
A well-known brand name vessel, five years old or less; impeccably presented, with a reliable engine and great sails

40' to 54' in length is ideal. Larger boats, as well as smaller and older models, may also be accepted, if they are in top condition.
"In demand are boats in the 40' range, with three double cabins and at least two heads," says Ian, "Ideal for two couples or a family; or a 33-34' boat with a comfortable double bed and toilet ensuite, with an additional single or double bunk."
"Boats really benefit from being aired out and used often and well," explains Ian in closing. "While there is more chance for wear and tear, we always charter our boats to properly qualified and experience skippers, and pride ourselves on maintenance, and any issues are attended to immediately. Your boat stays in better condition with us."
Ian MacPherson is a board member of both Boating BC and the International Sail & Power Association, and President of the Association of Bareboat Charters and Sailing Schools of BC. For more information about boat charters in BC visit any of the following charter companies in the directory here.
---