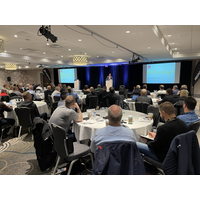 Suzuki Marine: Founded in 1973 by Suzuki Motor Corporation, Suzuki Canada Inc. has expanded its scope from motorcycles to becoming a prominent provider of motorcycles, ATVs, and outboard engines in Canada. From humble beginnings with 30 employees, Suzuki has evolved into a diversified powerhouse.
Yamaha: For five decades, Yamaha Motor Canada has been enhancing customers' work and leisure experiences with products tailored to exceed expectations. Their offerings cater to exploring Canada's vast landscapes, whether by land or water, promising fulfillment and enjoyment for users coast-to-coast.
Western Marine Company: As a wholesale distributor of marine parts and accessories, Western Marine Company boasts an inventory of over 35,000 items from 350+ global manufacturers. Their supplies cater to both commercial and recreational marine sectors across Canada.
Wells Fargo: Established in 1852 by Henry Wells and William G. Fargo, Wells Fargo's innovative start-up aimed to assist customers in navigating a rapidly evolving financial landscape. Their commitment to creative solutions and inclusive communities inspires change-makers generation after generation.
ICBA Benefit Services: Serving a diverse range of industries across Canada, ICBA Benefits provides tailored and sustainable solutions. Their dedicated team ensures clients receive the best matches, spanning construction, office, not-for-profit, tourism, hospitality, energy, manufacturing, and various other sectors.
As anticipation mounts for the 2023 Boating BC Conference, a beacon of learning, growth, and unity, the trajectory for Canada's recreational marine industry continues to grow. Together, they chart a course toward new vistas, fostering an environment where collective success prevails — a space where everyone can 'Win Together – Bet On It.'
---