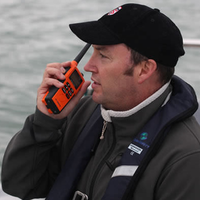 Taking the Stress Out of Distress Calls
Knowing how to make a 'Mayday' call is as important as any other safety training or skill - says Norm Dyck - it's critical to make sure you keep a cool head, and to make sure you, or someone else, is rescued as quickly as possible.
And Norm should know. Active in the boating industry for decades and a recipient of the Queen´s Golden Jubilee Medal, he's held leadership positions with Canadian Coast Guard Auxiliary (now known as the Royal Canadian Marine Search and Rescue (RCM – SAR), Transport Canada's Pacific Regional Recreational Boating Advisory Council, and Canadian Power and Sail Squadrons (CPS). Currently, he's the CPA's Chair, Maritime Radio course, and he talked us through the steps of how to be safe, and to make the call.
An ounce of prevention
"I'm fortunate. I've never had to make a distress call in over 70 years on the water," says Norm. "If you make vessel maintenance a high priority, and take safety courses and precautions, it's unlikely to find yourself in a serious situation."
With that preventive approach in mind, we asked Norm to help us take the 'stress out of distress' – just in case the need does arise.
Before you leave the dock
Review safety and emergency procedures with everyone on board

Show passengers where to find flares and life jackets. Stow them where they are easily accessible and labeled – not hidden in a corner of the hold. Ideally everyone should wear a life jacket while on board, particularly in adverse weather

Instruct guests on how to make a radio distress call, and tape instructions near the radio for what to do and say (see below)

Check your supply of flares to ensure you have the correct number, that they are current, with both red and smoke (visible in daylight) options.
In case of emergency
Stay calm

Make sure everyone on board is wearing a life jacket

Assess the situation to determine the nature of the distress (and the type of call you need to make)

Pump or bail if you are taking on water.
Making the call
Distress calls go out to all vessels in the area, including the Coast Guard, who will respond, and rebroadcast the call to dispatch others to help.
On VHF DSC radios (Very High Frequency Digital Select Calling) push the automatic red "DISTRESS" button, or manually transmit the call on channel 16, while you have power. If your radio is hooked up to GPS, the button will automatically transmit the position of the vessel. All boats with a VHF DSC radio will receive an alarm signal.
MAYDAY If you are faced with serious distress: fire or explosion, immediate or imminent life-threatening injury, illness or danger of losing your vessel; people overboard, or threat from pirates,

Mayday! Mayday! Mayday!

This is (Name of boat three times) and Ship Station License call sign

Mayday (name of the vessel)!

My position is (Latitude and Longitude), or distance/bearing from landmark

We are (describe the emergency)

We require (describe nature of assistance needed)

We have (number of people aboard, and age and condition if relevant)

'Vessel Name' is (length, sail/power, design type, hull color, trim color)

Repeat if there is no response after a few moments.

Say 'Mayday Relay' if you are calling for another vessel in distress, giving the name of vessel, and its position.
Pan Pan! Pan Pan! Pan Pan! for urgent, non life-threatening situations such as illness or injury, or damage to your vessel.

Pan-Pan! Pan-Pan! Pan-Pan!

Steps as above
Sécurité

(Say-cure-i-TAY three times) when you have a safety or hazard message for other vessels, such as a navigation or extreme weather warning. Format as above.
Seelonce Feenee (Silence Fini) by vessel in distress, to cancel a Mayday call. You must cancel a Mayday if you no longer need help:

Mayday

All Stations, All Stations, All Stations

This is 'Vessel Name' and call sign

The time is __

"Seelonce Feenee" to cancel May Day call

Out
Note:
Do not rely on your cell phone to make a distress call. Mobile phones are limited in range (vs. 30+ km. for VHF radios), and their calls cannot be heard by other vessels.

When you hear a distress call, keep Channel 16 clear until the incident is resolved.

Radio Operator's Certificate (ROC-M) - available after taking an Industry Canada-designated course from Canadian Power and Sails Squadron - is mandatory to operate a marine radio.
If you hear a Mayday call
A distress call triggers an alarm on your DSC radio, and it automatically switches to Channel 16, and displays the calling station's MMSI (Maritime Mobile Service Identity number), latitude, longitude and time of call.
Write down all the information so that you don't have to rely on your memory

Call the Coast Guard with a 'Mayday Relay' only if you don't hear a response from Coast Guard within two minutes

Stand by to follow any Coast Guard instructions, and assist, if possible

Keep Channel 16 free of routine calls.
Did you know?
'Mayday' - used internationally to signal life-threatening distress – comes from the French term "venez m'aider", which means, "come help me".

'Pan' comes from the French 'panne' which means a mechanical breakdown, and is a backronym for 'possible assistance needed' or 'pay attention now'.

The Canadian Power Squadron and Sails Squadron and the Coast Guard offer free, voluntary boat safety inspections that take as little as 15 minutes.
---