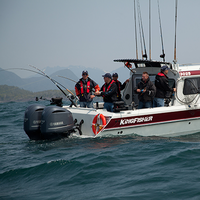 PLENTY OF FISH IN THE SEA: Salmon Fishing on Southern Vancouver Island
Now that the migration of five species of salmon is at its peak in BC coastal waters, we asked Victoria-based Martin Paish, who owns and operates a business specializing in recreational fishing management issues and Boating BC board member, to give us some tips on tidal waters fishing for salmon - and to share his favourite lures and spots. We were lucky to catch him in, as he prepares to head out on the water with three generations of family in tow. This time of year, Martin's out on the water every chance he gets.
"Fishing is more than just catching a fish," says Martin whose earliest memory is fishing for cutthroat trout with his father. "It's one of the great experiences of being out on the water, and I get much more enjoyment taking friends and family out fishing than catching one myself– to see the look of excitement on someone's face when they catch a big one is what it's all about for me."
Five Wild Species
Chinook – The biggest and most prized, these powerful 'King' salmon can grow over 70 lbs., and migrate into home rivers as early as March and continue until November. Called Springs when they arrive early, they're also known as Tyee when over 30 lbs. Highly prized for eating with a melt-in-your-mouth high fat content, and with flesh colour ranging from deep orange-red to pure white, this salmon is best cooked on a BBQ.
Coho – Available July to October, these moderately sized salmon - from 4 lbs. in spring to 20 lbs. or more in fall - are a fairly abundant species in our waters. Bright, silvery skin, deep orange flesh, and deliciously similar to sockeye.
Lures:

From a boat: Downrigger with a flasher, and a spoon (like G-force, Kingfisher or Coyote) for beginners. Flasher and bait (anchovy or herring bait in a teaser head, or cut-plug herring) for experienced fishers.

From the shore: Flies, Spoons and buzz bombs or jigs.

Ideal spots for Chinook and Coho:

Campbell River's Famous Tyee Pool where fishing is done from traditional, classic rowboats. This is a chinook fishery in its purest form.

From Port Alberni to Bamfield.

Juan de Fuca Strait, and shore fishing on the breakwater at Ogden Point (Victoria) and at Beachy Head and Otter Point (Sooke)

West Vancouver from the Capilano River to Point Atkinson.
Pink salmon – at 3 to 10 lbs., Pinks are the easiest for beginners to catch "because they'll bite just about anything". These arrive in abundance every second (or odd) year – up to 20 million in the lower Fraser River alone. Delicious and "highly underrated", rosy pink colour, light texture and flavour, these are excellent table fare fresh, or make awesome salmon candy.
Lures:

From the beach - Sparse pink or blue flies, spoons or spinners.

In a boat – just about any 3 to 4 inch bait, spoon, plug or hoochie, preferably with a bit of pink or red colour to it.

Ideal spots:

Beaches along the east coast of Vancouver Island, Nile Creek to Campbell River, Oyster and Quinsam Rivers, and in odd years tidal waters throughout Georgia Strait and Juan De Fuca Strait .
Sockeye
Actively pursued by recreational fishermen when abundant, this year the Alberni Inlet - a "productive and exciting fishery" - had a good return. Deep red colour, firm texture, ideal for steaming or canning, Sockeye make great lox.
Lures:

Downrigger trolling using flashers and pink hoochies.

Ideal Spot:

Note: Sockeye fishing remains closed in all areas of Georgia and Juan De Fuca Straits as well as on the Fraser River due to low numbers.
Chum
Found down the inner coast of Vancouver Island from September into December, these are the least consistent biters - and least pursued in tidal waters - of all salmon. Also known as Dog or Keta, these are mildly flavoured, light in fat, and beige to light pink. Ideal for smoked products like salmon jerky and candy.
Lures: .

Cut Plug Herring or Flashers and pink, blue or UV hoochies.

Ideal Spots:

Campbell River area north of Seymour Narrows.
Before You Go
Buy a tidal waters fishing license and a Salmon Conservation Stamp from the Department of Fisheries and Oceans. All proceeds from the Stamp go to the Pacific Salmon Foundation for salmon restoration, stewardship and enhancement projects in BC
Know and understand the regulations including minimum size and bag limits. DFO Enforcement Officers are on the water, checking

Go to your local tackle shop – they'll tell you where to go, and what lures to use. Make sure you buy enough!

Check that all required safety gear on your boat is in good working order

Buy marine charts if your boat is not equipped with a depth sounder and GPS plotting tool.

A cooler and ice to store your caught fish properly.
When You Catch a Fish
Take care of your catch: bleed it by running a knife through the gills, and put it on ice immediately.

Record the date and management area of your Chinook catch on your license.
Remember…
All salmon fishing must be done with barbless hooks.

Be sure to support sustainability of stocks by fishing where there is an abundance of Chinook and Coho, and using techniques and in 2016 use lures that don't attracting sockeye salmon. Avoid pink hoochies!
Don't Have a Boat?
No problem! You can hire a boat from one of the many marinas in the area, or a charter guide who will take care of all your equipment and tackle, but not your license. They might even bring lunch!
Web Resources
Hatcheries and Sustainable Fishing
Hundreds of millions of juvenile salmon are released, every year, thanks to 23 hatchery and spawning facilities in BC. Run by Fisheries and Oceans Canada (DFO) these salmon supplement wild stocks and sustain British Columbia fisheries, helping to conserve weak salmon stocks, support stock assessment, and provide increased recreational, commercial and Aboriginal fishing opportunities. Hatcheries and spawning channels comprise about 10-20% of all salmon harvested in B.C.
---