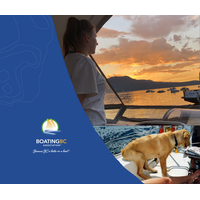 My love affair with boating began through a telephone dating service in 1998. My date, a Polish gentleman whose name now escapes me, decided to impress by chartering a boat from Cooper Boating in Granville Island on a beautiful summer day. Prior to that, the sum total of my boating experience included a few excursions on a 16-foot aluminum fishing boat on a BC lake as a teenager, riding a ferry and rowing an inflatable two-person dinghy from the West End to Granville Island, way back in the 1980s.
The sailboat my date chose, a 24-foot Martin 242, had no toilet, (also called a 'head' by boaters), but it did come equipped with a bailing bucket, among other required safety gear. This does take some special skill for ladies to use effectively when nature calls, but I was undeterred.
My date had his sailing certification from Poland, which was recognized by the friendly folks at Cooper Boating, permitting him to take the boat out as a "bare" charter, meaning no hired skipper required.
This small boat felt every wave and swell of the ocean off Jericho Beach, where we sailed. Learning how to tack and jibe the sail as we crisscrossed the area was remarkably intuitive. Remembering the "boom" at all times was especially easy, knowing the consequences. Almost every sailor gets their bell rung on the head at least once for not paying attention.
I did not get seasick, nor have I ever, nearly 25 years later.
However, my most memorable event from that sailing day was the moment we talked about honesty and truth in relationships, the importance of starting off on the right foot.

In that spirit, he told me in perfect English but with a heavy Polish accent that he'd had a "heart transplant" recently.
Extremely dismayed at that news, I expressed my sincere sympathy about this impacting someone still so young, likely in his early 30s. After listening to me go on for a bit about how sorry I was at his serious health issue, he laughed loudly.
He repeated again he'd had a "heart transplant" and that it wasn't serious. I was completely baffled by his response. He said one more time very slowly, "not heart transplant, hair transplant". The rolling 'rrrs' got me. The joys of dating. And, the admitted hair transplant, certainly wasn't a deal breaker.
Despite that great and comical icebreaker during this ocean date, our chemistry didn't last, but I give him full credit for introducing me to the boating life. I enrolled in the Cooper Boating Basic Cruising skipper sailing course, did many Friday night social sailboat races through Coopers, and Royal Vancouver Yacht Club public events or Vancouver Rowing Club, thanks to others who owned boats. I've never looked back. Our BC marine environment has abundant, pristine waterways I've explored through friend group charters to Desolation Sound and the Octopus Islands, Keats Island and Bowen, as well as our Gulf Islands. We have so many unique marine parks and destinations accessible only by boat where crystal clear waters and many varieties of fish or jellyfish abound. I met many new friends and a husband along this journey. I now co-own a powerboat, a nearly 25-year-old Maxum called "Boaty Call". I still love both modes of travel.
My golden retriever dog, may she rest in peace, also shared that love of boating once she figured out how to sit like a dog and not a human, on a boat. My two children, aged 18, and 14 are now converts to the lifestyle. My son knows his job is the bowline while my daughter handles the midship line and gets the fenders on and off, using her clove hitch knots. I'm content to pick up the rear, handling the stern line, which gives me a great view of these budding boaters and how well they work together under the tutelage of my partner who has taught power and sail for years.
As we navigate out of this pandemic, I'm encouraged to see so many new boaters. I hope they'll consider taking the appropriate courses to enhance their boating skills, master the important safety drills, and give them more confidence to truly appreciate the serenity and joy of their new found, family-friendly recreational pastime. The members of Boating BC offer many suitable courses to help newcomers get ready for the boating lifestyle. If you like selfies, you can't find a better backdrop than the whales, dolphins, eagles and spectacular scenery found in our BC marine settings.
See you on the water someday soon!
-Cheryl Ziola
(Pic is my daughter in Brentwood Bay and my dog, Cleo.)
---