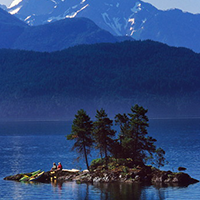 FLOAT YOUR BOAT IN THE FRASER VALLEY
Because so many of us live near the coast, most people think about heading out on the ocean to go boating, but Brendan Keys prefers to head inland to a fresh water lake - as often as he can. We recently spent some time with him to find out why and where he goes.
Brendan's passion for boating on freshwater lakes infectiously bubbles up when he talks about his two favourites in the Fraser Valley. This Mission-based enthusiast also happens to be a Boating BC Board member, and General Manager of GA Checkpoint Marine and Watersports. Boating, he says, is a truly Canadian cultural experience.
"I didn't grow up boating. Even though I'm from a seaside town in Ireland, that only meant sitting on the beach or paddling in the water! It wasn't until I moved to Canada, and got into the marine business repairing inflatable boats, that I first went out on the water."
"Boating is a truly Canadian cultural experience."
And Brendan took to it like the proverbial duck. In fact, it's a big part of his family life today. He, his wife and three daughters especially love going to Harrison Lake and Stave Lake, near Mission.
Unlike the ocean, he explains, where you have to think about tides and turbulent water, objects in the water, and lots of traffic, these lakes are clean, serene and uncongested – perfect for new boaters, and those wanting to get away from crowds. Although he owns a couple of small watercraft, his pontoon boat is his craft of choice.
"A pontoon is perfect for getting lots of people on the water at the same time. We can cruise comfortably, eat on the boat, and jump into the water to swim. It becomes a gathering place – and the more the merrier!"
Just an hour from downtown Vancouver, the "beautiful, hidden gem" of Stave Lake – created in 1921 when BC Hydro dammed the Stave River – is a perfect boating day trip. Accessed by Dewdney Trunk Road, it's well sheltered by surrounding high mountains, with clear channel markers to direct you out of the river into the lake. Perfect for small craft of all kinds – motor and human powered.
"The best thing", says Brendan, "is that there are very few people on the water – in fact, you'd be lucky to see another boat on the upper part of the lake. When I spend the evening up there – after four to five hours – it's like I've had two weeks off. "
Harrison Lake – wide, deep and 77 miles long – is ideal for power boating, sailing, windsurfing and paddle boarding; canoeing and kayaking. Two easy access points are east of the village of Harrison Hot Springs, and in Sasquatch Park at Green Point. Favourite destinations include beautiful Rainbow Falls on the east side in Cascade Bay, and Long Island on the west side, a favourite secluded camping spot complete with swing, BBQ pit and outhouse. According to Brendan, this is the perfect weekend getaway with lots of cool little beaches, where you can just drop anchor and camp – ideally with lots of friends in tow.
"Boating is about social time – not about how fast you go. It's about being on the water, and who's with you. When we cruise to the end of the lake with a BBQ on board and some music, and watch the sun go down… well, it doesn't get better than that.
---