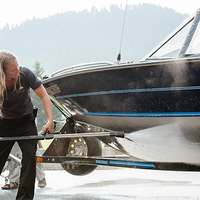 Clean Drain and Dry - Stop the Spread of Invasive Species
Are you inadvertently giving aquatic hitchhikers a free ride?
Tucked into crevices in your boat or equipment, invasive species - like Eurasian Milfoil and the New Zealand mud snail - can hitch a ride between different bodies of water. Of particular concern are zebra and quagga mussels.
While there are no reports of these mussels in B.C. so far, if they take hold, the damage and cost to control them is incalculable.
Invasive species are non-native organisms (plant, animal, fungus, or bacterium).
"These mussels are a serious threat," says Martina Beck, Invasive Fauna Unit Head, BC Ministry of Environment and Climate Change Strategy, "because they spread rapidly, displace native species and remove nutrients they need, and threaten water quality."
They also clog pipes and water intake systems in power stations, municipal water and other facilities.
"Prevention is the best approach."
"There is no known product for eradicating these mussels in open water systems," says Beck. "And they can only be controlled in closed systems. That's why we have an early detection, rapid-response plan to contain and prevent further spread."
That plan includes a collaborative, 'perimeter defense approach' with partner organizations in other western provinces, Washington, Idaho and Montana; and Canadian Border Services Agency at ports of entry… and you!
Bringing a Boat into BC
Inspections at marked stations are mandatory when you transport watercraft in BC – even if you've been through an inspection in another area. Failure to stop can result in a fine.
Owners answer a series of questions to determine high or low risk

A boat out of the water less than 30 days requires inspection and decontamination. If no invasive mussels or standing water is found it's free to launch into BC waters

If any signs of invasive mussels or standing water are found, it will not be allowed to launch into BC waters until the completion of a 30-day drying period.
Email COS.Aquatic.Invasive.Species@gov.bc.ca before you come or learn more here.
What You Can Do
CLEAN, DRAIN and DRY all watercraft in between every body of water, every time

Check for aquatic vegetation, mud and debris. Pay attention to hidden, hard-to-reach areas, gaps, crevices, holes and other inconspicuous places

Completely drain your motor, wet well and bilge, on land, after leaving the water

Avoid launching watercraft into more than one waterbody per day to allow time to dry

Avoid felt-soled waders, a major pathway for the dispersal of aquatic hitchhikers

Get the BC Report a Species App, for iPhone and iPad or Android, with images and info to identify species
Report sightings immediately:

Quagga and zebra mussels to the RAPP Hotline 1.877.952.7277

Aquatic plants to 1-888-WEEDSBC

All others to BC Report a Species App
For more information visit www.gov.bc.ca/invasive-species
---