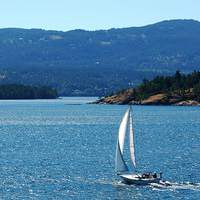 What Is BC's Top Boating Destination for 2018?
May 14-21 has been proclaimed BC Boating Week by the Province – just in time for the Victoria Day Long Weekend and the kickoff for the recreational boating season across our beautiful province.
We hope you'll join us and get on the water this season - there really is no better way to experience BC than on a boat! And when we say boat, we mean anything that floats: kayaks to catamarans, power, sail or stand up paddleboards.
For anyone who is interested in getting on the water, there are many options available. If you're just getting started, it's easy; you don't need to own a boat to be a boater. Rentals include power boats, personal watercraft, kayaks and stand-up paddle boards; they are small, easy to operate and the rental agency will train you on the dock before departure. You can find more information about renting or chartering here.
If you want to try something a little larger, there are opportunities for shared ownership and a growing trend in boating memberships that require no ownership at all, but give you access to a fleet of boats all year round. There are countless ways to get on the water search our directory to discover which works best for you and your family.
If you'd like to get involved in a community event you can visit our events calendar to see what's going on in your community. If you know of an event coming up that's not on the calendar, let us know, and we'll be happy to add it.
We're fortunate to have some of the most magnificent boating there is right here in BC and, while safety is paramount, it is not difficult to ensure. Follow the simple guidelines of wearing a personal flotation device, having the appropriate certification, not boating while impaired and being appropriately prepared for your journey and you will ensure a safe and magical experience.
Did we mention the limitless number of amazing boating destinations there are in BC? We'll never capture them all because no two trips are ever the same and sometimes the road less travelled isn't a road at all!
If you share our passion for the water, we invite you to join us on Instagram, Facebook and Twitter where we'll have special offers and contests through the summer – and we want to hear your boating stories and destinations.
Boating has no barriers – it is available to everyone and allows you to chart your own course whatever vessel you choose. What's stopping you? Get on the water this season and you'll discover why BC is better on a boat!
Did you know… the recreational boating industry in BC employs 17,000 full-time individuals, contributes more than $2.2 billion annually to the provincial economy and has experienced a 30 per cent growth rate over the past six-years?
---