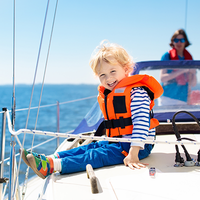 National Safe Boating Awareness Week: Plan for a Safe and Memorable Experience
There is no better way to experience BC than on a boat. As temperatures rise, it's an invitation to get out and enjoy the magic of being on the water in BC, whether that involves the 27,000 kilometers of coastline or the thousands of lakes and rivers across the province.
The first order of business is fun with the family and friends; to ensure a great experience, please take the time to prepare for a safe and memorable experience.
May 18-24, 2019 has been designated National Safe Boating Awareness Week, and whatever your boating preference or level of experience, it can't be emphasized enough that an informed and confident boater is a safe and happy boater. And when we say boat, we mean anything that floats: kayaks to catamarans, power, sail or stand up paddleboards.
Here are some guidelines to help you stay safe this boating season:
First and foremost, always wear a properly fitted personal flotation device.

Ensure your boat or watercraft has all required safety gear.

Never boat while under the influence of alcohol or recreational drugs.

Check weather conditions and patterns before leaving and during your trip.

Create a float plan before you leave so friends or family know where you're going.

Take a course – there is one available for every skill level and type of boating.
Please also keep in mind that we share our waterways with large and small recreational and commercial watercraft. Our waters are open to everyone so please be considerate of others, and the environment.
Boating BC wishes everyone a safe and enjoyable boating season!
For more boating safety tips, click here.
---