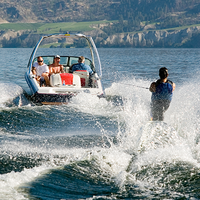 BC Boating Week Proclaimed August 24-30
Through the advocacy of Boating BC Association, the Province has proclaimed August 24-30 as BC Boating Week - an opportunity to highlight the significance of the recreational boating sector, showcase the many opportunities that exist for anyone to get on the water and enjoy the boating lifestyle, and reinforce what it means to be a responsible boater.
BC is host to some of the most spectacular boating in the world and we want everyone in the province to experience the magic that boating in BC offers. It doesn't matter what kind of boating you enjoy, you are guaranteed to build lifelong memories with family and friends.
There are opportunities for anyone, regardless of age or income to get on the water. For first-timers, rentals are abundant and can include power boats, personal watercraft, kayaks and stand-up paddle boards with no experience or certification required. There are also opportunities for shared ownership and a growing trend in boating memberships that require no ownership at all, but provide access to boats all year round.
The issue of safety is one the Association takes very seriously and strongly encourages everyone operating a boat to be well-trained and informed. Following simple guidelines, such as wearing a personal flotation device, having the appropriate certification, not boating while impaired and being appropriately prepared for your journey will ensure a safe and memorable experience. Learn more about safety guidelines here.
Boating has no barriers – it is available to everyone and allows you to chart your own course whatever vessel you choose. What's stopping you? Get on the water this season and you'll discover why BC is better on a boat! Learn more about opportunities to get on the water here.
Visit us this Saturday at Oak Bay Marina and Win Vancouver International Boat Show Tickets!
A launch event for BC Boating Week will take place August 24 from 11:00-3:00 at Oak Bay Marina where a number of activities are planned, including: a charity barbeque in support of Oak Bay Marine Search & Rescue; paddle board demonstrations by Olympian Simon Whitfield; Discovery Island shuttle tours from Ocean River Sports & Adventure; live music, and; a fishing derby at the Oak Bay Marina fish station. Boating BC will be giving away tickets to the 2020 Vancouver International Boat Show – if you're in the area stop in to say hello and play our game to win! Further details are available on the Facebook event page.
---